Gutter Cleaning Near You | Gutter Cleaning NJ | Gutter Cleaning Company
"Where Customer Service Comes First"
Why Gutter Cleaning Is Important
Gutter cleaning is an essential part to any home that is often overlooked by any homeowner. Without gutters your home and the lawn would get damaged every time it rained. It is important that you are aware of whether your gutters are clean or not. Not cleaning your gutters can lead to your lawn getting destroyed by water, rain water leaking into your basement and walls, and even your foundation shifting which can be very dangerous for your home. Check out our blog post on the importance of cleaning your gutters.
Some ways to find out that your gutters are clogged is to go outside during the next rainstorm. When you are outside take a look at your gutter and if there is water overflowing that means that it needs a cleaning and if you check and it is clean that means that you need a bigger gutter for that section of the house. Another easy way to know if to keep track from the last time it was cleaned. If there are a lot of trees in your area you would need a cleaning around 5 months after the previous one. 
Don't worry though just give us a call and the top gutter cleaning company in NJ will help you schedule your first gutter cleaning. We specialize in all gutter services and we are focus on being experts at what we do. One of our main service is gutter cleaning and we are a gutter company that specializes in gutter cleaning services.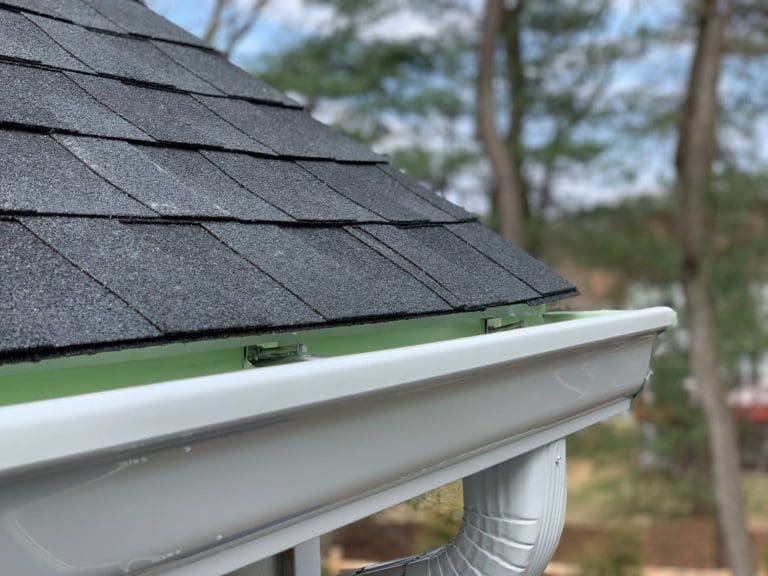 How Often Should I get my Gutters Cleaned
Getting a gutter cleaning isn't a one and done thing that you need to do once. You have to make sure to maintain your gutters at least twice a year. Things like our service plan help with this. We offer you a package where you can get multiple gutter cleanings in one year but instead of paying full price for each you get a discount if you pay for two or three cleanings up front. The best part is you just call whenever you want and we come down to clean them for you without any other interactions.
Since it is recommended that you get at least two gutter cleanings per year you may be asking yourself, when should i get these  cleanings? Our professional advice to you is at the end of spring and the middle/end of fall. During the spring and fall is when most leaves and gunk get into your gutters. If you get a third gutter cleaning for the year you can stretch it out more evenly to make sure that even less leaves are clogging your gutters during the year.
How Much Should I Expect To Pay
The price for a gutter cleaning varies and their are a lot of variables that change the cost of a gutter cleaning. If you have a first floor home your gutter cleaning it should cost some where around 100 – 200 dollars. 200 dollars is the worst case scenario because if they are very clogged or have a lot of trees around them it would raise the price. Another reason for the price to raise is that their are gutter guards already installed.
For a house that is 2 story with around 200 linear ft of gutter will be between 150 – 250 dollars. These prices vary and it is only a range but it does not mean that your house is going to cost this much or even cost within this range. If you want a more in depth breakdown with what goes into a gutter cleaning your can read our blog post on how much a gutter cleaning should cost.
At Middlesex Gutter Supply we take priority in you as the homeowner. We make sure you always come first and you get the customer service you deserve from a company. Compared to other companies that take forever to respond or show up unannounced on random dates we are a cut above the rest. We stick to our dates and show up on time. Go check out our social media to get the latest updates a discounts. At Middlesex Gutter Supply we want to create a seamless experience for your seamless gutters.
Our Gutter Cleaning Locations
We Service a big portion of New Jersey which includes the following areas:
Mercer County including Trenton, Lawrence, Hamilton, Princeton, West Windsor, Robbinsville, Hopewell, Ewing, East Windsor, Hightstown
Middlesex County including Plainsboro, Cranbury, South Brunswick, North Brunswick, Milltown, East Brunswick, Helmetta, Monroe, South River, New Brunswick
Somerset County including Montgomery, Rockey Hill
Monmouth County including Roosevelt, Millstone, Manalapan. Englishtown, Freehold